| Chest | Waist | Hip | Crotch |
| --- | --- | --- | --- |
| Standard | 102 - 103 | 102 - 103 | 101 - 101 |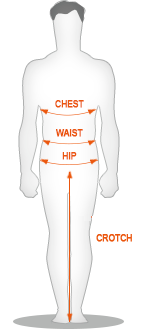 Very important
Aprox. measure on cm.
This measures refer to the person wearing the costume, not the costume itself.
Not every costume is available in every size. Please check the product page in order to know the available sizes.
If you are a very tall person, or you have doubts between two sizes, we'll suggest you the upper size.